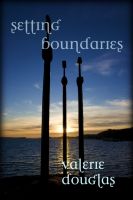 I'm told I really shouldn't use my blog just for talking about my stories, and I was going to do that, but then something strange happened….
Setting Boundaries has always been one of my favorite stories but no matter how hard I tried I just couldn't find a place for it, a home. As much as I loved it, I couldn't seem to find an audience for it so I just let it languish.
Oh, it has action and adventure in it to be sure, but at its heart it's a simple tale of friendship, of forging strong bonds between three people who have ample reason not to trust each other. But I didn't want to write the standard story of mistrust and distrust either.
Ever since writing The Coming Storm I'd always wanted to write the story of how Elon, Colath and Jareth met and became friends. As many times as I tried, though, they were all too dark, too cold, they didn't match the warmth of the original story. And that's what I wanted, that warmth, because so much of that is missing these days.
There's so much baggage that goes into such relationships these days. I didn't want readers to think they were gay – as if there was something wrong with that or gay people couldn't be friends with straight people. But that also wasn't the story I wanted to tell.
I wanted to tell the story of that friendship. But that came with baggage, too. As with so much of our interpersonal relationships these days, male friendships have become an object of fun. Our society gives them silly names like bromance or man-date, reducing it to a poor reflection of reality. It's even worse for women. Or consider marriage – everyone points out that half of all marriages end in divorce, rather than saying Half of all marriages succeed! Its no wonder so many of us are on anti-depressants, we're so afraid of being open with another human being for fear of looking silly or being made fun of.
Ask anyone who's fought side by side with his buddies, though, and you'll find out what such friendships can truly be. That was the story I wanted to tell. I'd been making it too complicated. So, that was the story I wrote.
It's a good story but although it received a great review within days of posting, it never seemed to take off. As hard as I tried, I couldn't seem to draw attention to it. No one seemed to want to read that kind of story anymore.
So when I first saw the numbers for Setting Boundaries on Amazon.com I honestly thought it was a fluke, a mistake they would soon correct. I mean, that couldn't be right – 1500+ copies? And they'd been having problems with reporting, so I just chalked it up to that. But the numbers didn't go away, they went up. It still seemed strange and I kept waiting for it to be corrected. Then, at some point, it began to dawn on me that they were real. Because those numbers kept going up. I couldn't believe it. Then someone told me Setting Boundaries was on the top 100 list of free fantasy novels on Amazon. Last night I looked and it was #23. 1800 copies. In the world of traditional publishing its a drop in the bucket. And, it's free. But still. For me? I'm breathless. Could it crack 2000? Has it already? I can't imagine it. If it does, if it did… wow…
Kindle
http://www.amazon.com/dp/B004RJ7X50
Nook
http://search.barnesandnoble.com/Setting-Boundaries-a-novella/Valerie-Douglas/e/2940012213709
Smashwords
http://www.smashwords.com/books/view/43794
Excerpt
A feline scream drew Jareth out of sleep with a rush. For a moment, he could only stare in breathless astonishment…and in wonder.
He'd never seen anything so swift, so strangely beautiful or so very deadly as watching Elon of Aerilann fight off firbolg and boggins alone in the moonlight.
The Elf moved like water, smoothly, gracefully, his swords swirling around him almost as if they, too, were fluid, as if the steel bent like reeds in the flow of his movement. Yet where they touched, blood flew. There was no sound save for the cries of the firbolg and boggins. Bodies littered the ground around him as steel flashed like lightning in the thin moonlight. Every movement was graceful and sure as he wove a web of steel around himself, denying entrance as Colath took up his swords and went to join him.
There was no pause, Colath simply stepped into the flow of Elon's movement and became part of it. It was as if they were one person, extensions of each other, one stepping in where the other wasn't.
It was a wonder to watch.
Jareth saw the firbolg leap and scramble to the rocks above him and them and fired a mage-bolt, sending it spinning out into the night as he rolled to his feet, calling up power. Energy flared around him, gathered in his hands.
A boggart leaped to one of the rocks and then toward Colath. Jareth picked it out of the air.
It wasn't his first firefight but he felt the same mixture of terror and exhilaration as he spun and turned in response to the motion he saw at the edges of his vision as Elon and Colath defended the entrance to their little shelter.
Read More

»